Seller obligations and buyer rights: What you need to do about smoke alarms and RCDs before property settlement
Electrical safety compliance is an important part of property settlement, whether your property is in an urban or remote location. Here's what you should know as a seller or buyer. The key devices related to this topic are RCDs and smoke alarms.
What is an RCD?
A circuit breaker or RCD (which stands for residual-current device) is an electrical safety device that automatically switches off all connected electrical components when a threat is detected. Another name for RCD is 'ground fault circuit interrupter'.
What does an RCD do?
An RCD prevents someone from getting a fatal electric shock if they touch a live electrical wire (e.g., if a wire is exposed when a cable is accidentally cut or dislodged)
It reduces the risk of electrical fires that could result from a faulty appliance overheating unnoticed.
What are the compliance requirements for RCDs?
Quantity – There must be at least two RCDs installed on the main switchboard (meter box) or distribution board of a residential property at settlement.
Type – The minimum requirement is for fixed RCDs installed in a fusebox which provide the highest level of protection throughout a whole property. Please note that there are two other types of RCDs which do not meet compliance requirements:

Socket-outlet RCDs which replace standard socket-outlets. These have limited safety value as they only provide electrical protection for devices plugged in at that location and not all other electrical components in your property.
Portable RCDs plugged into a standard socket-outlet when fixed and socket-outlet RCDs are not available. These have a further reduced scope of protection only for the person using the electrical device(s) plugged into that specific portable RCD.

Scope – "All home sellers and landlords must ensure that RCDs are installed in accordance with the Electricity Regulations to protect all power points and lighting circuits."
Guidelines – The WA government's RCD fact sheet provides general information on what is required in homes for sale, homes for rent, the number of RCDs required, and testing frequency.
Exemption – RCDs do not need to be installed if the buyer intends to demolish the property within six months. In this case, the buyer must give formal notice of intended demolition to the seller before settlement (e.g., on REIWA's form 099 Exemption in the Case of Demolition). If the buyer does not end up demolishing the property within six months of transfer, the buyer is then required by law to install the required number of RCDs.
Why must there be at least two RCDs?
Having more than one RCD divides and reduces the electrical load while providing a level of convenience to residents.
For example, lights and power points for appliances are often linked to separate RCDs. If a faulty electric rice cooker breaks a circuit and the power is cut off, your lights wired to a different RCD are not affected. This supports quick and accurate troubleshooting.
RCDs should be installed by licensed electricians, who may also recommend having extra RCDs for high or complex electrical loads on larger properties.
What is a smoke alarm?
A smoke alarm is a fire-protection device that automatically detects the presence of smoke, and raises a shrill alarm to alert residents that there may be a fire risk in their property.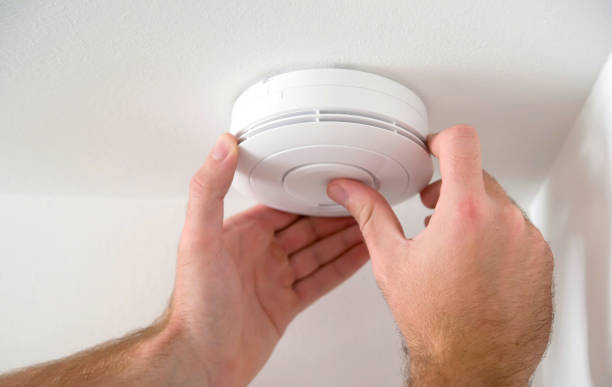 What are the compliance requirements for smoke alarms?
Scope – Applicable to all residential properties that are to be sold or rented out.
Type – Smoke alarms must be less than 10 years old and hard-wired. That means the common battery-operated smoke alarm does not comply with the requirement. If new wiring cannot be installed, long-life lithium battery-operated smoke alarms must be installed.
Exemption – Smoke alarms do not need to be installed if the buyer intends to demolish the property within six months. In this case, the buyer must give formal notice of intended demolition to the seller before settlement (for example, on REIWA's form 097 Smoke Alarm Exception). If the new owner does not demolish the property within six months of the transfer, they are then required by law to install the required number of smoke alarms in the property.
Penalties for non-compliance
The above informs property sellers of their obligations and buyers of their rights regarding electrical safety. Ensure that work is done by a licensed electrician who provides the relevant electrical safety certificate for your records.
Non-compliance attracts fines of up to $15,000 for an individual and $100,000 for a body corporate (Electrical Regulations 1947).
Therefore it is in the seller's best interest to ensure compliance before settlement to avoid penalty.
This also serves the buyer's interest to avoid incurring unnecessary extra costs or stress that should be the responsibility of the seller.
Compliance is in both the seller and buyer interest as authorities will conduct audits of property records and check residences for compliance.
How KDD could help
Whether you are a property seller or buyer, you can potentially save time and money, as well as reduce stress, by engaging qualified conveyancing professionals like ourselves to look over your settlement contract (which sometimes runs to 100s of pages long!). Our caring and experienced specialists can help you spot any potential compliance red flags regarding electrical safety, or any other potential areas of dispute. Let us help you create a positive property settlement experience that is as supported, smooth flowing, and pleasant as possible. We have the people and technology to make it work out right for you. Ask us to find out how you could benefit from our input.